G
ALLERIES
Nature and Landscapes:
USA West Coast
One - Two - Three - Four
Five - Six - Seven
Nature and Landscapes:
USA East and West Coast
One - Two - Three - Four
Five - Six
Wildlife
One - Two - Three - Four
Five - Six - Seven - Eight
Travel and Cultures
One - Two - Three - Four
Five - Six - Seven -
Eight - Nine
- Order Art Prints
- What's New
- About David
- Wedding Photography
- Home
"Your work is really impressive, both from a technical and an artistic standpoint."
- Scott Brennan, Professional Photographer, Bellingham, WA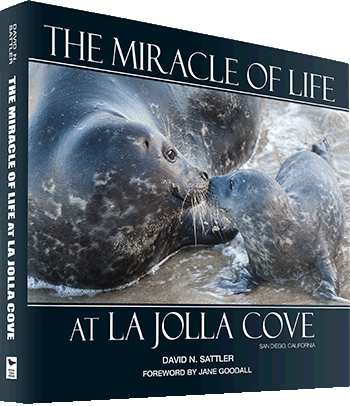 Now available!
"A stunning work by a gifted artist. Completely enthralling."
—Ed Henry, San Diego Audubon Society
This magnificent book is filled with spectacular images and poetic narratives by Dr. David Sattler, and a timely and vital foreword by Dr. Jane Goodall. La Jolla Cove is celebrated for its miraculous tide pools, wondrous aquatic animals, and colorful sunsets at the edge of day. Now you can bring home and enjoy the beauty of this coastal environment and share its treasures with loved ones and others as a gift for the holidays, birthdays, anniversaries, weddings, graduation, and other celebrations!

For book details and ordering information, please visit www.lajollabook.com.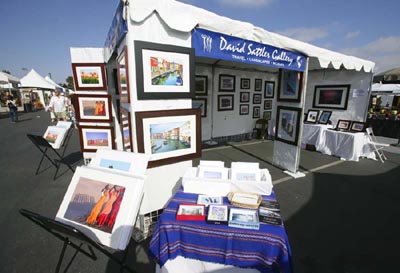 Photo of booth at La Jolla Festival of the Arts.
-
Gift Certificates: Gift certificates are easy and fun to give and wonderful to receive on any occasion. To order a gift certificate (available in any amount), simply call us at 360-201-4071 or send us an e-mail. We'll send the gift certificate in one of our very own art cards to you or to the recipient.
If you have any questions, please call us or send us an e-mail.
David Sattler Photography
E-mail - Bellingham, Washington
All images copyright David N. Sattler, 1998-2013. All rights reserved.
Images and digital files on this site may not be reproduced, copied, saved, altered, or manipulated
without written authorization from David N. Sattler.